Nate Hoogeboom reports from western Michigan and has a wealth of information on travel during the COVID pandemic.
0:00 – 6:11 – Introductions & religious gatherings
6:12 – 10:43 – Schools
10:44 – 12:42 – Movie Theaters
12:43 – 15:22 – Restaurants and Bars
15:23 – 16:42 – Masking Compliance
16:43 – 20:50 – Air travel in COVID Times
| | |
| --- | --- |
| West Michigan | Interview conducted March 2021 |
| Schools | Closed the end of 2019-2020 school year. All schools returned back to class in the fall, but with a schedule designed to keep the kids in distinct groups. Students and classes are occasionally quarantined. |
| Masks | Indoor mask compliance is nearly universal, outdoor masking is extremely rare |
| Religious Gatherings | Nate's church started back outdoors during the summer, back indoors in the winter and then followed school patterns in the fall / winter with attendance limitations. |
| Restaurants and Bars | Restaurants shifted to take-out only, returned to in-door dining in the fall. Capacity was reduced during the winter and (as of March 2021) restaurants are at 25% capacity with very long wait times. |
| Movie Theaters | Open with limited capacity, renting out full theaters for private showings at low prices. |
From western Michigan, Nate Hoogeboom tells us how COVID has impacted his area. Of particular note is Nate's experience with air travel over the last several months and his first-hand story of how travel collapsed and has subsequently recovered.
Schools
After the initial lockdown and move to virtual our school district did everything possible to return in August. School started on time but with a change in schedule. Rather than going 1 st – 6th hours every day high schoolers are in block scheduling in an even odd format to reduce passage times. Kids now go to classes every other day for longer periods. This schedule was not the easiest to get into but our Freshman and Junior have fallen into a groove and have been doing quite well.
In mid November when cases locally were rising and our Governor closed schools again for 'Two Weeks' we figured that it would last until after Christmas and that is what happened. We returned to in person on January 4 and since then have not had many cases.
Our Junior son plays soccer and was able to have a fall season. Masks were required (not very well enforced) and spectator attendance was limited to two per athlete. The season started a bit late but all games were played. I have a buddy who sits on the school board of the district next to ours and their only issue with 'Transmission' due to sports was that two football players tested positive after it was found out that an opponent played while hiding that he was experiencing symptoms. If not for this I have yet to hear of transmission due to fall sports.
The Junior Senior prom was just moved to Seniors only. This was not a big deal for our son but his girlfriend was disappointed.
Our school district did an amazing job in March by quickly setting up food distribution for all students no matter the income level of the household. This ran three days a week until summer and then once a week until fall. School food service has adapted to the new normal and provides meals 'like normal' but without the cafeteria to sit. Most kids sit outside or in their cars. Our son was disappointed that his Freshman sister was given open campus after he waited two years to be able to leave at lunch. All grades are allowed to leave campus to get lunch without any special approval.
Our youngest is in elementary and much is the same about his experience. As a 5th grader he would normally start moving classrooms. Due to COVID the teachers now move and the kids stay in the same room. They still have recess but are required to keep masks on outside.
We did choose to move him from a Christian school to the public school over the summer. This was only ⅓ influenced by potential school shutdowns. There was no way we were going to pay tuition if our kids were virtual but that was only one part of the decision. The response to virtual by the Christian school was over the top and required too much. Our kids hated learning and we didn't want that again. In addition our plan always was that our kids would go K-8 in Christian school and then public high school. We changed our approach after listening to our oldest. He said he would have rather moved in Middle school so he could have made friends who he would be in high school with.
Church
Even before Covid our church ran livestream for both services. When the initial lockdown began all services moved to livestream only. The transition from supplemental livestream to full livestream was difficult from a technical perspective. Everything from internet capacity to cameras to video switching equipment needed to be reconfigured and optimized for a service with no people in the seats. In addition, our streaming tool (Boxcast) was slammed with new users and crashed on the first week. We kept the same core group of tech team members to prevent mixing of social groups. I had a 6 week break from helping run morning services. In that time steady improvements were made to the production value which is a horrible way to say it but no better way to describe the improvements to the stream.
Once the weather improved we moved to one service outside in the parking lot. Again, this created a large amount of technical work that in the end allowed people to gather again for the first time in weeks. People were encouraged to bring their own chairs and if they wanted to they could park at the perimeter of the lot and tune into the FM transmitter we added to our tech stack. When service could not be held outdoors due to weather we moved into our multipurpose room and went livestream only. From May to the first week of October 'cancelled' due to weather twice, not a bad run for summer in Michigan.
In October both services begin again indoors. One in the traditional sanctuary and one in the multipurpose room. Our reopening committee created a plan that included an entry point for each service and steps to enter the building. Temperatures, screening questions, masks at all times when in the building and recording of names were all parts of the protocol to enter the building.
The guiding principle was that we followed the schools on in seat / remote services. When our school district went to virtual due to rising cases around Thanksgiving both services went to livestream only. More on that when we get to schools.
From January on we have been in person and in the last few weeks the mask policy has been relaxed. Once seated it is now ok to remove your mask if you wish (restaurant rules) while still maintaining distance in the reduced capacity (removed or blocked rows) service site.
Middle/High school youth group met outdoors with fire pits until it was too cold, indoors with precaution and now outside again with fire pits and propane heaters. Both groups meet back to back on Sunday rather than the old Wednesday for Middle School and Sunday for high school.
My wife is on staff and plans elementary programs. K-5 have been meeting on Wednesday evenings in a different space to allow for spacing.
We have yet to re open the nursery but have the video feed in the gathering area for parents with young kids.
To my knowledge we have not had a case tied to attendance at one of our services.
Theaters
Our local AMC 8 is open 3 days per week with reduced capacity and masks on unless eating. There is an AMC theater in Grand Rapids where private rentals are happening. $99 – $249 depending on your movie choice for up to 20 people. You can choose from five different start times between 5:30 pm and 7:15 pm. A limited set of movies is available for both kids and adults.
The other 'Local' chain of movie theaters is open Tuesday – Sunday with normal showtimes. Private rentals are available with the same prices structure as AMC. Celebration Cinema is unique in that they run a drive in theater. For $2400 you can have up to 120 cars on a Friday or Saturday evening, $1500 for Sunday – Thursday. The odd thing is that this is not actually at the drive in location but at regular theaters with big parking lots.
We did go to the traditional drive-in back in October for a night at the movies sponsored by Priority Health. We saw the Original Ghost Busters while it rained. It was a fun time that I would not have gone looking for. Due to some technical issues we were given passes for another show, passes that have sat in a basket in our kitchen and will most likely go unused.
Travel
I travel extensively for my job. I flew more times in 2020 than I did in 2019. Hard to believe but it is true. I was in Belgium when the first European travel ban was announced. My wife called many times in a panic because I was sleeping when the announcement happened. She thought for sure I was not going to get home. In reality it was the fastest trip through passport control and customs of my many trips to Belgium.
I spent the time from March 13 to mid June working from home. I drove to my first trip in June and then began flying again at the end of June. It was unreal, absolutely empty and no services in the airport. Airport volume has steadily increased starting in September and absolutely exploded in March. I write this on a plane heading home from Seattle. The SkyClub in MSP was busier than most pre-COVID times. I was lamenting to my wife on my walk from gate to gate that the good old days of COVID business travel are done. The general public is back and they have forgotten what they didn't know about politeness when traveling.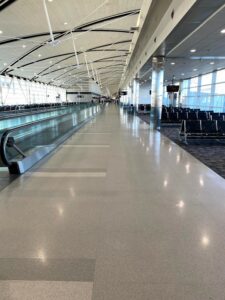 March 2020 in the Detroit Airport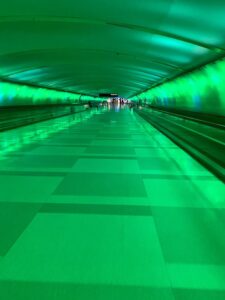 Summer 2020 in the Detroit Airport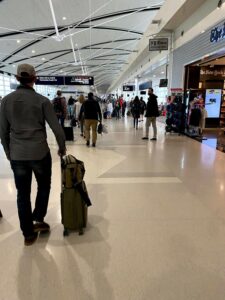 October 2020 in the Detroit Airport
The most interesting experience I have had is with hotels. I stay at IHG properties, mostly Holiday Inn Express, and did even before COVID. Most of my travel in the last year has been to Cincinnati and Seattle. The difference in experience in Cincinnati and Tukwila are surprising and not what I would have expected. I did not return to Seattle until October 2020. I have been to both seat and Cincinnati in the last 5 weeks.
Cincinnati
No hot breakfast when I first stayed in June 2020. While this is understandable, there is still no hot service even as recently as mid February. Only a grab and go bag with a horrible muffin and a flavorless apple.
No daily room service, you can request but your room will not be cleaned unless you stay more than 4 nights.
Both are not a big deal for me. I bring an extra bag with things to cook in the room with the microwave. A quick stop at a grocery store on my first evening sets me up for the week. It is interesting when compared to HIE in Tukwila.
Tukwila
Hot breakfast was offered in October . It was heated (perfect temp) Jimmy Dean breakfast sandwiches and other assorted items from their normal breakfast, including the cinnamon rolls. This was not self serve and Caterina from Italy would happily prepare your selections and send you off to eat in your room or on your way.
When I headed down two weeks ago, Caterina was still serving breakfast in the same manner but with their pre COVID menu rotation. Scrambled eggs on one day veggie omelettes on the next day. Bacon or sausage and the other items. It felt almost pre COVID and I enjoyed chatting with Caterina about her ski season she told me about in October. It was refreshing to make connections again.
Room service was happening every day in October and I forgot about it when I arrived two weeks ago. I came back Tuesday evening to a made bed and new towels. I then remembered to put out my do not disturb because I do not need daily cleaning.
My favorite burger place (Bob's Burgers & Teriyakis on International Blvd near SeaTac) let me sit down which was a nice change from October. Seriously though, you need to check out Bob's. Amazing hole in the wall.
Restaurants in Cincinnati were a mixed experience but based on the lass lockdown status of Ohio I would have figured that the hotel experience would have been different.
I notice a more relaxed feeling in Seattle didn't these two trips compared to October. Far fewer people walking down the street alone wearing masks compared to October. Even with this reduction it is still odd compared to what Michigan and Ohio are like. Almost no masks outside while walking in either location.